Rabbi Denise L. Eger and Congregation Kol Ami is often mentioned in the media, across the nation. Below is a central hub of articles related to our community.
2022
June 2022:
A Look at the Faces of LGBTQ+ Progress in the Jewish World (JOOL / June 12,2022)
LGBTQ youth face terrifying new threats. How should the Jewish community respond? (The Foward / June 14, 2022)
May 2022:
Hear Our Voice: Celebrating Women Rabbis as Liturgists (Rabbi Eger on the panel)
Recipients of Ben Gurion University Honorary Award (Ynet / May 16, 2022)
Kol Ami's Gala made it to the Jewish Journal (Jewish Journal /May 13, 2022)
Inspiring Conversations with Rabbi Denise L. Eger of Congregation Kol Ami (Voyage LA / May 13, 2022)
April 2022:
Thirty Years Later: Rising From the Ashes of the 1992 Riots including Rabbi Eger's reflection (Jewish Journal / April 28, 2022)
Holy Sparks: Celebrating 50 Years of Women in the Rabbinate (Reform Judaism / April 28, 2022)
February 2022:
Rabbi Denise Eger: A Trailblazer in the LGBTQ Community (Jewish Journal, March 17, 2022)
Welcoming the Stranger: How Reform Congregations are Taking Action for Refugees (Religious Action Center, February 25)
News of cure for AIDS is a beacon of hope for millions, says longtime activist Rabbi Denise Eger (WehoVille, February 18)
Rabbi Levy Wrote SoCal Jewish News' Shabbat Message (February 18)
Jewish protections expanded in West Hollywood (Beverly Press, February 9)
Bring Your Best – Parashat Tetzave (World Union for Progressive Judaism, February 4)
Kol Ami wins Best House of Worship at LA Blade Awards

January 2022:
Rabbi Eger in "Holy Sparks" exhibition: In Manhattan, 24 women artists celebrate 24 women rabbis who blazed a trail (JTA, January 31)
Believe Out Loud's International Holocaust Remembrance Day Prayer (Believe Out Loud, January 26)
Queer people need God, too: Spirituality focus of LGBTQ symposium in Allentown (NPR WLVR, January 24)
Rabbi Eger talked about security at synagogues on Morning in America on TV (January 17)
2021
December 2021
The story of the lesbian Rabbi who cared for dying AIDS patients (GCN Ireland, December 22)
Long-Term Survivors of HIV/AIDS Speak at Congregation Kol Ami (Jewish Journal, December 9)
Rabbi Eger is one of Three Trojan Women Who Have Made History in the LA Times (Los Angeles Times, December 5)
Rabbi Eger at Believe Out Loud and Cathedral of Hope World AIDS Day Worship Service (Minute 27: 20)
Rabbi Eger at World AIDS Day – U.S. HIV/AIDS Faith Coalition campaign (2:19) and live event (42:25)
November 2021
Congregation Kol Ami Marks World AIDS Day (Los Angeles Blade, November 30)
Congregation Kol Ami To Host World AIDS Day 2021 Event (The Pride LA, November 30)
October 2021
In the past month Rabbi Eger participated in these community events:
Jews for Justice conference-for young Jewish progressive social media influencers (Featured Speaker). Rabbi Eger spoke about being a progressive Zionist and how to work with Progressive organizations. She also did an ask the Rabbi session with her colleague Rabbi David Wolpe
The Reform Pension Board quarterly meeting as a Trustee
Progressive rabbis conversation with the leaders of AIPAC
Helped to organize and lead the Pre-Shabbat Social Justice program for the California Democratic Party.
Appeared on the radio show Uncommon Democrat discussing the Jewish view of Abortion and reproductive Justice rights.
September 2021
Interview: The High Holy Days with Rabbi Denise L. Eger, Sr. Founding Rabbi of Congregation Kol Ami West Hollywood's Reform Synagogue (WeHoVille, September 5)
July 2021
Rabbi Eger was a guest on Rabbi Micah Streiffer's Seven Minute Torah podcast. Rabbi Eger talked for conversation about torah portion Va'etchanan, the concept of God's oneness, and what that means for our relationships with people.
June 2021
Sharon Stone Joins Prominent Activists at Groundbreaking of WeHo AIDS Monument (WeHo Times, June 6) Rabbi Eger is mentioned.
May 2021
Rabbi Eger featured on Hebrew Union College: Alum Spotlight , our member Eliana Rubin was featured in the Student Spotlight section (May 26, 2021)
Rabbi Eger on CBS News: Police Patrols To Increase Across SoCal As Anti-Semitic Violence Spikes (CBS News, May 21, 2021)
Rabbi Eger is filming a video for THE LAVENDER EFFECT's Live Virtual Pride Parade on May 30
April 2021
First John A. Altschul Leadership Award presented: New prize named for Kol Ami founding president (WeHoVille, April 28, 2021)
Logal LGBT online magazine WeHoville advertises Kol Ami-sponsored talk between West Hollywood and Tel Aviv (April 20, 2021)
Rabbi Eger participated in We Are All God's Children, a webinar-discussion about the LGBTQ+ community with Cerritos College chief of police Don Mueller. Read about the event here (April 13, 2021)
March 2021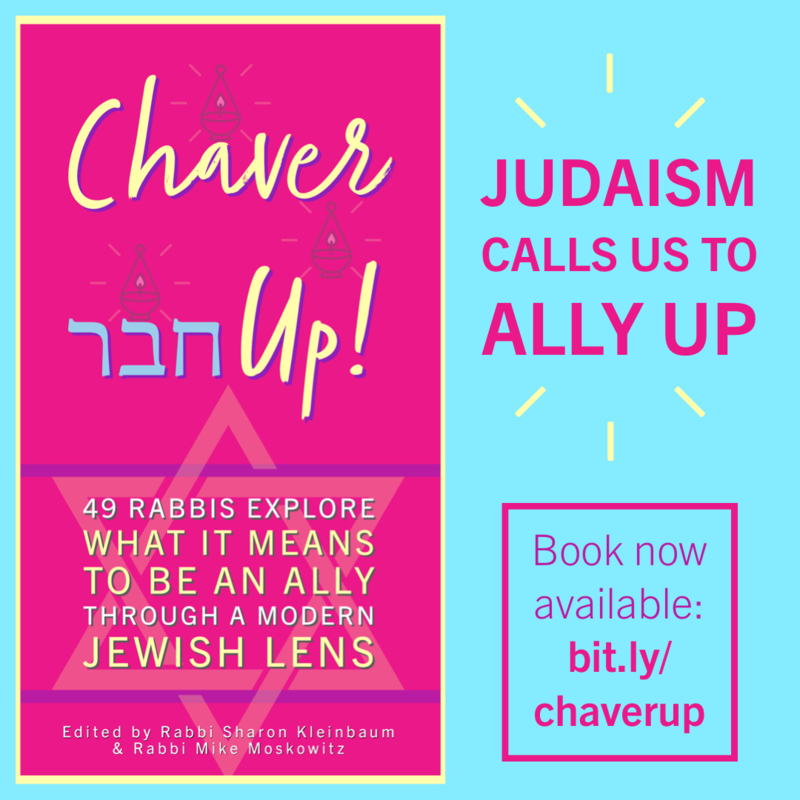 Rabbi Eger wrote an article in this new book "Chaver Up!", which reminds us that being an ally is a deeply Jewish value. The 49 diverse Jewish spiritual leaders in the book have written some really wise and moving pieces, grappling with the complexity, messiness, and human fallibility of allyship, as well its beauty, holiness, and power to restore good. Let's all "Chaver Up!"—or "ally up"—together. The book is out now in paperback and as an e-book: https://bit.ly/chaverup
Kol Ami Rabbi Denise Eger Receives Honorary Doctorate from Ben-Gurion University (Jewish Journal/March 19, 2021) – The university announced on March 17 that it will be presenting the degree to Eger because of her work as a Jewish leader, AIDS and LGBTQ activist, author and founding rabbi of the West Hollywood Reform synagogue.
Learning to Listen: Rabbi Eger on the Money Loves Women podcast (March 17, 2021)
5 Trojan women who have made history (USC Dornsife/March 5, 2021) – In honor of Women's History Month, USC Dornsife celebrates alumnae who have made their mark on history, including Rabbi Eger .
February 2021
Rabbi Eger has been a guest lecturer at Hebrew Union College-Jewish Institute of Religion in the Practical Rabbinics class teaching about Weddings and Funerals and LGBTQ life
Rabbi Eger has spoken to the Pittsburgh Jewish Community about LGBTQ inclusion and best practices
Rabbi Eger was part of a panel on Women and Entrepreneurship in the Jewish Community for Artist 4 Israel Webathon
Rabbi Eger was the featured speaker for the International gathering of the LGBTQ Ambassdors Leadership Program of Israel's Agudah, the
Rabbi Eger participated in the CCAR Past Presidents gathering
Rabbi Eger taught a class on Parshat Beshalach for our Congregation Or Chadasch in Vienna, Austria
Rabbi Eger co-authored with Rabbi Steinman the newly published study and discussion guide for Mishkan Ga'avah: Where Pride Dwells- which is a 4 lesson set aimed at teens and adults on LGBTQ issues and Judaism
available free for download at pride.ccarpress.org
2020
September 2020
Rabbi Eger appeared on the podcast LGBTQ STORIES
August 2020
Navigating COVID: Our Ancestors Pointed the Way, Rabbi Max Chaiken's interview with the editors of ReformJudaism.org.
Seeing Ourselves in Torah, Rabbi Max Chaiken's commentary for Parshat Ki Teitzei.
Rabbi Eger appeared on the Podcast: Campfires and Color Wars. ​​​​
What the Torah Teaches about the Use (and Abuse) of Political Power, Rabbi Max Chaiken's commentary on Parshat Shof'tim.
What Torah Says about Economic Equity, Rabbi Max Chaiken's commentary on Parshat R'eih.
July 2020
"Revelation is Progressive": Our Responsibility to Live in Pursuit of Holiness, Rabbi Max Chaiken's Torah commentary for Parshat Eikev.
What Torah Requires of Us, Rabbi Max Chaiken's Torah commentary for Parshat Va-et'chanan.
How Moses Found His Voice – and How We Can, Too, Rabbi Max Chaiken's recently published Torah commentary. Over the next couple of months, Rabbi Chaiken will be a featured commentator for Deuteronomy on ReformJudaism.org.
June 2020
Amid the pandemic and protests, celebrating 50 years of marching for LQBTQ rights, Rabbi Eger's Op-ed in The Forward, June 21, 2020
Rabbi Eger responds in The Forward what our role is as American Jews in the wake of the George Floyd protests, June 5, 2020
May 2020
Rabbi Eger was featured on a Podcast of Rabbi Shmuly Yankelowitz – Valley Beit Midrash
Rabbi Eger had an article published in The Forward on the future of denominational Judaism, May 19, 2020
April 2020
Rabbi Eger's book, Mishkan Ga'avah: Where Pride Dwells, a celebration of LGBTQ Jewish Life and Ritual was published by the Central Conference of American Rabbis. It is available for purchase here.
Rabbi Eger was quoted in an article in the Beverly Press about celebrating Passover during shelter in place.
March 2020
Rabbi Eger was interviewed about her book, "Where Pride Dwells," on the Women Rabbis Talking Podcast, March 27. 2020
January 2020
On the anti-semitic graffiti in West Hollywood, January 19, 2020
2019
December 2019
Rabbi Eger interviewed on Sidebar with John Duran, December 6, 2019
November 2019
Israel is the Only LGTBQ Safe Haven in the Middle East, Rabbi Eger's column in the Jewish Journal, November 13, 2019
October 2019
Rabbi Eger addresses press conference at anniversary of Pittsburgh shooting, October 28, 2019
Rabbi Eger's Book was published, Gender and Religious Leadership
September 2019
Rabbi Chaiken interviewed in The Holilday Dilemma, Tablet, September 17, 2019
August 2019
"No, Mr. Trump, We Are Not Disloyal", Rabbi Eger's Op-Ed in the LA Blade, August 29, 2019
July 2019
Rabbi Eger interview on The Sex Ed Podcast!
June 2019
Rabbi Eger Honored for Jewish American Heritage Month, Jewish Journal, June 5, 2019
May 2019
Garcetti Vistis Israel, Kol Ami Turns 27, Jewish Journal, May 22, 2019
Rabbi Eger to be honored by LA City for Jewish American Heritage Month, May 29, 2019
April 2019
Criticized for Screening Anti-Occupation Documentary, WeHo Now Will Show a Film More Favorable to Israel, WEHOville, April 30, 2019
Understanding Human Connection, 10 Minutes of Torah Podcast "On the Other Hand," ReformJudaism.org, April 29, 2019, refers to Rabbi Eger's leadership on LGBTQ issues
Jewish Community Protests WeHo City Council's Showing of Anti-Israel Film '1948', Jewish Journal, April 17, 2019
February 2019
Rabbi Chaiken named as a InterfaithFamily Rukin Rabbinic Fellow
January 2019
Zioness Teach-In Discusses Difficulty of Being a Progressive Zionist, Jewish Journal, January 14, 2019
The Freedom of Being Bound to One Another in Covenant, Davar Acher for Ten Minutes of Torah, ReformJudaism.org, January 15, 2019
2018
December 2018
The Gay Synagogue I Didn't Know I Needed, ReformJudaism.org December 5, 2018
November 2018
WeHo Shabbat Honors the Transgender Community The Pride LA November 18, 2018
October 2018
Congregation Kol Ami Prays for Pittsburgh Los Angeles Blade October 31, 2018
A Time for Healing, Prayer and Remembrance Los Angeles Blade October 30, 2018
June 2018
Meet Rabbi Denise Eger of Congregation Kol Ami in West Hollywood, VoyageLA June 26, 2018
April 2018
Max Chaiken Named First Full-Time Assistant Rabbi at Congregation Kol Ami, Wehoville April 26, 2018
2017
November 2017
Table for Five: Five Takes on the Weekly Parsha Jewish Journal November 16, 2017
Rabbi Roundtable Series: What is the Diaspora Jew's role vis a vis Israel?www.forward.com November 14, 2017
Rabbi Roundtable Series: What is One Thing Jews Need to Stop Doing?www.forward.com November 7, 2017
October 2017
Rabbi Roundtable Series: Is intermarriage a problem? Or an opportunity?www.forward.com October 31, 2017
Rabbi Roundtable Series: What can the Jewish Community do to fight the opioid epidemic?www.forward.com October 26, 2017
Rabbi Roundtable Series: Are Jews the inheritors of Eretz Israel?www.forward.com October 24, 2017
Rabbi Roundtable Series: Rabbis: What is the Biggest Threat to the Jewish People?www.forward.com October 17, 2017
Coming Out Makes Historywww.rac.org October 19, 2017
May 2017
Trump's "Religious Freedom" Executive Order: A Wolf In Sheep's Clothingwww.newnownext.com May 4th, 2017/ Rabbi Denise L. Eger
2016
June 2016
Alumna Rabbi Denise L. Eger is a voice of the people dornsife.usc.edu June 29th, 2016/ Michelle Boston
Israel's First Out Transgender Officer Gets Personal at Congregation Kol Ami lapride.com, June 27th, 2016/ Karen Ocamb
Transgender Israeli Soldier Speaks at WeHo's Congregation Kol Ami wehoville.com, June 25th, 2016
After Orlando, Heartbroken, but with resolve jewishjournal.com June 15th, 2016
More than 2,000 gather at L.A. City Hall to mourn 'those amazing, precious souls in Orlando' latimes.com June 13th, 2016
May 2016
Rabbi Denise L. Eger is a guest on the HUC-JIR's College Commons Bully Pulpit Podcast speaking on "Torah for Our Times" collegecommons.huc.edu
April 2016
Rabbi Denise L. Eger is honored alongside Mayor Garcetti and others by the Stonewall Democratic Club thepridela.com April 22nd, 2016
February 2016
American Jews helped create prayer space equality at Kotel jewishjournal.com February 11th, 2016
2015
December 2015
How 'Transparent' is Reshaping Image of Transgender Jews (featuring quotes from Rabbi Denise Eger) forward.com
July 2015
CCAR Condemns Deceptive Campaign against Planned Parenthood ccarnet.org, July 27th, 2015
June 2015
CCAR Condemns Attack on South Carolina Church ccarnet.org, June 18th, 2015
April 2015
Rabbi Eger is a featured speaker in the Plenary Session LGBT Equality Discussion at the Consultation on Conscience, Washington D.C. April 26 – 28, 2015
Central Conference of American Rabbis Condemns Beating of Charlie Kalech and Alden Solovy By Ushers at the Kotel in Jerusalem ccarnet.org, April 22nd, 2015
March 2015
"Rabbi Denise Eger seeks to open doors wider to all Jews" Jewish Journal, March 3rd, 2014/ Tess Cutler
"Reform rabbis gather in Philadelphia to appoint first openly gay president" NewsWork.org, March 12th, 2015/ Kimberly Haas
"Rabbi Denise Eger To Become First Openly Gay President Of The Central Conference Of American Rabbis" Huffington Post, March 13th, 2015/ Antonia Blumberg
"Largest Rabbinical Organization In North America Welcomes First Openly Gay President" Philadelphia.CBSLocal.com, March 15th, 2015/ Molly Daly
"First openly gay president of Reform Judaism rabbi group to be installed" Philly.com, March 15th, 2015/ Alan J. Heavens
"Lesbian Rabbi Is to Become President of Reform Group" New York Times, March 15th, 2015/ Rachel Zoll for the Associated Press
"Rabbi Denise Eger Becomes First Openly Gay Leader of Reform Judaism's Largest Group" WEHOVille.com, March 15th, 2015
"U.S. Reform Jewish group welcomes first openly lesbian president" National Monitor, March 15th, 2015/ Katharine Gripp
"HRC Religion Council Member Becomes First LGBT President of Central Conference of American Rabbis" HumanRightsCampaign.org, March 16th, 2015/ Michael Toumayan
"US Reform Judaism appoints first gay woman as top rabbi" GayStarNews.com, March 16th, 2015/ Andrew Potts
"US Reform Jewish rabbis appoint lesbian president" PinkNews.co.uk, March 16th, 2015/ Nick Duffy
"The Rise of LGBT Rights Is An Existential Threat to Conservative Religious Groups" ThinkProgress.org, March 17th, 2015/ Jack Jenkins
"Op-ed: Religions Must Open Their Doors to LGBT Members" TheAdvocate.com, March 17th, 2015/ Rabbi Denise L. Eger
February 2015
"First a Deadly Car Crash, Now a Bright New Facade for Congregation Kol Ami", WEHOVille.com, February 13th, 2015/ Henry (Hank) Scott
January 2015
"Rosner's Torah-Talk: Parashat Vayechi with Rabbi Denise Eger", Jewish Journal, January 2nd, 2015/ Shmuel Rosner
2014
December 2014
"What does Judaism Say About LGBT People?", Advocate.com, December 3rd, 2014/ Rabbi Denise Eger
November 2014
"L.A. Panel Features Prominent Pro-LGBT Religious Figures: Four prominent pro-LGBT religious figures were lauded as pioneers at a panel discussion called 'Is Religion Getting Us to LGBTQ Equality?'" Advocate.com, November 14th, 2014/ Stevie St. John
August 2014
Introducing "Lights in the Forest: Rabbis Respond to Twelve Essential Jewish Questions", CCARAVBLOG, August 20th, 2014/ Andy Kahn
July 2014
Faith Leaders Sign Letter Opposing Religious Exemption For LGBT Hiring Non-Discrimination, Huffington Post, July 8th, 2014/ Antonia Blumberg
April 2014
Biden's LGBTQ Message carries Jewish echoes, Jewish Journal, April 2nd, 2014/ Rabbi Denise L. Eger
March 2014
What Fred Phelps Didn't Learn From Sodom and Gomorrah, Huffington Post, March, 21st, 2014/ Rabbi Denise L. Eger
2013
Fall 2013
Why L.A.? Why Women? And Why Now? Lilith.org, Fall 2013/ Liz Safirstein Leshin

September 20, 2013
It Happened Again (and Again), Huffington Post, November 20th, 2013/ Rabbi Denise L. Eger

June 2013
4 Influential WeHo'ans in the Fight Against Prop 8, WehoVille, June 26th, 2013/ Dan Watson